DESCRIPTION
Operating capital and mortgage loans to family farms eligible for a U.S.D.A. Farm Service Agency (FSA) guarantee.
USE OF FUNDS
Crop production, harvest costs, farm ownership, farm improvements or equipment acquisition.
QUALIFICATION
Eligible as a family farm as qualified by the FSA Loan Office.
MINIMUM & MAXIMUM AMOUNTS
$10,000 to $1,399,000.
U.S.D.A. may reset maximum loan amount annually.

MATURITY 
Dependent upon loan purpose, operating loans are generally 12-18 months. Real estate loans up to 30 years.
INTEREST RATE
Variable rates tied to National indices on production loans. Rates on farm ownership and term loans are also tied to National indices but can reset every 5 years.
COLLATERAL
Available business and personal assets including machinery and equipment, accounts receivables, inventory and real property.
FEES
 3.35% fee plus closing costs.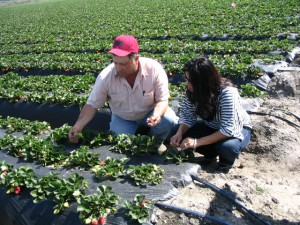 Francisco Contreras of Big F Farming Company Inc.  We have assisted Francisco with his financing needs through our Direct Farm loan program which is facilitated through the USDA Farm Service Agency.  Here Francisco explains his strawberry cultural practices.
Application